Customer
Service
in Outsourcing
Ticket management

Digital Customer Care

Smart Assistance



CUSTOMER SERVICE IN OUTSOURCING
By choosing to outsource your customer service you can vastly improve your business processes, as well as saving on both resources and money. The success of your business lies in the hands of your customers! To ensure you meet all of their needs efficiently it's necessary to provide omnichannel and multilingual services.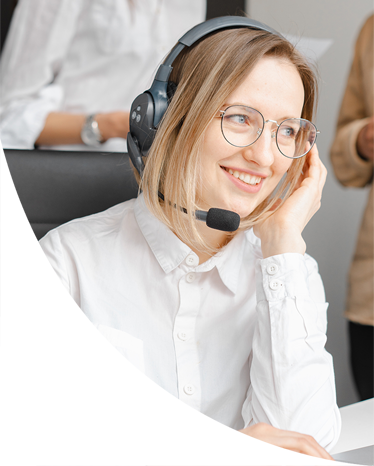 Companies
that have
choosen us
Increase

Customer Satisfaction
We Are Fiber provides the highest standard of customer service which will improve your performance and allow you to win and retain more and more customers/users.
Our services include, but are not limited to; Help desk, telephone contact centre, ticket management and chatbot. The disposal of these services will provide your customers with flexible and consistent care.
Don't leave your customers unanswered
Help desk, telephone contact centre, ticket management and chatbot are some of the services we put at your disposal to provide your customers with always available and flexible support according to your needs.
With We Are Fiber you can support users in a simple way ensuring constant and active 24/7 quality supervision.
Our Customer Service solutions
Having good customer service is the first step towards establishing an effective relationship with your customers. This will allow them to put trust in your services and consider your products above your competitors.
Don't wait longer to offer your customers premium customer service.
By outsourcing, you can solely focus on your business with trust that meanwhile your customers are receiving the fast and efficient services they require.
We are Fiber offers a vast range of flexible and tailor-made solutions, personalised for the needs of your company. We provide customers with multilingual staff and 24 hour services in any time zones.
On top of this, our customer service includes the flexibility of work shifts and support for internationalisation to help your business grow in other markets and countries.
Our solutions to dedicated customer service includes multilevel help desk services, digital customer care on different channels, ticket management in record time, multilingual Booking Office, Chatbot with automatic learning and Smart Assistance
Find out more about our services on the dedicated pages and ask us for a free quote!
Take advantage of our
Try & Buy
formula
Try our service for up to 3 months before choosing us as your partner. Together we can find the perfect solution to fit all of your needs.
Optimize your
Customer Service
Reach your customers on all channels! This will help you to retain your users, cut costs and save time!
We Are Fiber supports companies in their growth path with passion, method and professionalism. We offer a vast range of services including customer care management, data entry and process management. Large or small our services are adaptable to meet the needs of any size enterprise
Approach
Methodology
A 3-step approach: To guarantee you an always dynamic service, which follows your needs and those of the market, we build our relationship with companies one step at a time.
Analysis and design
Based on your needs and an as-is analysis, we design a personalised service to ensure the correct management and tracking of calls and other types of contacts linked to your company.
Strategy definition
We define a to-be operating model with a focus on customer service. The model identifies strategic priorities whilst taking into account activities.
Quality Check
We monitor your business through a dashboard integrated within your systems and centralised with data relating to the outsourced service and incoming calls, for continuous analysis and fine-tuning according to quantitative and qualitative KPIs.
Can we
help you

?

Please enter the requested information and we will prepare a quote and get in touch shortly to discuss it with you