Finance & Insurance


in Outsourcing
The Finance & Insurance sector is the one that handles the most data. Outsourcing time consuming activities allows you to reduce your employees workload as well as saving time and costs of hiring specialised personnel.
Simplify your work with outsourcing!

Robotic Process Automation makes it possible to connect and automate the movement of data from various applications in both accounting and banking. It can be used to upload transaction data from various subsystems and different formats, automate workflows and generate greater efficiency in processes.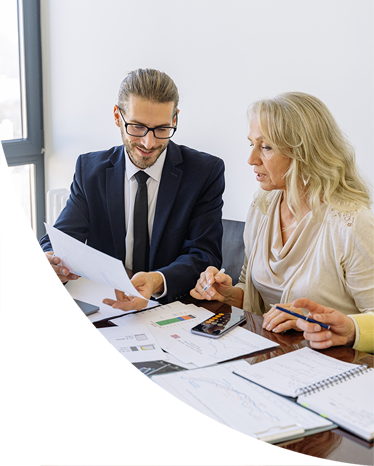 Information collection and roadmap definition
Based on your needs and an as-is analysis, we design a personalised service that deals with the process of identifying roles and recruiting the necessary professionals. In this phase, the Quality Assurance and Training team define strategic priorities, identifies personnel and establishes times and reports. At the end of this phase, a roadmap of the activities is then shared with the client.
Start of activity and monitoring
We define a to-be operating model aimed at identifying guidelines, taking into account the needs of each individual company. At this stage, the operation team delivers constant support of all activities. Real-time monitoring is offered thanks to a dashboard integrated within the client's company systems and centralised with data relating to the outsourced service.
Evaluation of results and the introduction of new activities
We continually monitor and improve KPIs and identify new activities and objectives. At the end of each analysis, the results are evaluated based on the objectives defined in the initial phase. During this stage, we identify opportunities for improvement and new services.
Services
We Are Fiber supports companies in their growth path with passion, method and professionalism. We offer a vast range of services including customer care management, data entry and process management. Large or small our services are adaptable to meet the needs of any size enterprise.
Are you ready to consider outsourcing for your company?
Our consultants are at your disposal to analyse your needs and offer you the perfect solution.
1.
We take care of your Customer Care
Our services are organized to meet every type of need in the field of customer care aimed at acquiring new customers, assistance service, complaints management, help desk.
2.
We manage the Back Office
We take care of document archiving, data entry, quality check, database management, flow management, pec, complaint email.
3.
Process Management
We optimize and speed up your processes. Control Room, Quality Audit and Robotic Process Automation are some of the services we put at your disposal to keep you in step with the technological transformation.
The solution
Reducing the research time spent on data entry is the goal of any company that wants to increase its productivity and lower costs.
Thanks to the implementation of advanced technologies, We Are Fiber can support the Finance & Insurance sector by carrying out intricate tasks.
Harness the power of innovation and improve your companies performance.
Harness the power of innovation and improve your companies performance.
Take advantage of our Try&Buy formula
Try our service for up to 3 months before choosing us as your partner.
Can we

help you

?

Please enter the requested information and we will prepare a quote and get in touch shortly to discuss it with you.