Logistics
management
in Outsourcing
Monitor logistics in real-time, detect issues and keep up with customer demand. Supply chain activities produce a large amount of data in relation to deliveries, warehousing and order preparation.

Our solutions allow you to speed up these operations, with automated processes that enable you to significantly improve the performance of your company, whilst reducing costs and dedicating your resources to core activities.
WE ARE FIBER
uses its advanced technologies to provide solutions that help companies manage fundamental processes quickly. These solutions also help eliminate errors with control and tracking of shipments, monitoring inventory levels, order purchases, invoicing and the exchange of documents.
In addition to this, we can provide artificial intelligence allowing automated management of communications with customers;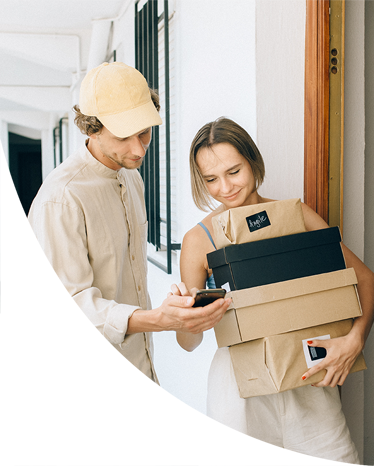 The advantages


of Logistics management in outsourcing
1.
Zero errors
With intelligent automation, manual processes that involve inaccuracies will be eliminated. These solutions mean the possibility of error is also eliminated.
2.
Control in real-time
Consistently up to date visibility of orders and a real time-view of availability on all channels allows you to make decisions quickly and effectively.
3.
Speed and efficiency
Thanks to RPA, you can simplify and speed up all operations involving warehouse and inventory management. This also allows you to recover valuable resources.
No mistakes, more speed..
In addition to our know-how, there is also the potential of Artificial Intelligence which allows you to manage communications with customers in an automated manner with chatbots and virtual assistants able to interact with customers by creating a first filter of their needs.
Take advantage of our Try&Buy. formula
Try our service for up to 3 months before choosing us as your partner
Sectors
We Are Fiber supports companies in their growth path with passion, method and professionalism.

Thanks to our industry expertise, We Are Fibre offers: customer care management, data entry and process management.
Large or small our services are adaptable to meet the needs of any size enterprise.

Our consultants are at your disposal to analyse your needs and propose a tailor-made solution to meet all your requirements.

Are you ready for your company to perform better and become more competitive?
Case
study
Out solution for Bloom & Wild
We Are Fiber was partnered with by a successful e-commerce company in the optical sector. Our support services were divided in the following ways
management of inbound calls to the telephone number dedicated to customer support:
constant supervision of the mailbox and live chat.


It should be noted that many online users, especially over 50's had never used a digital service before the pandemic, so they required more attention in the support phase
As a result of this, we prepared a flexible and personalised approach and were quickly able to recognise the customer care requirements of each individual. We then renewed our customer care according to this, ensuring business continuity.
1.078 (dec) 6228 (jun)
Managed calls
1.141 (dec) 7175 (jun)
Tickets managed
987 (dec) 4.626 (jun)
E-commerce
91 (dec) 1602 (jun)
Store
Can we

help you

?

Contact us to find your company's unstoppable momentum towards future success!