A reliable help desk service that is capable of identifying and solving problems is a fundamental tool for strengthening relationships with customers and guaranteeing constant support both before and after the sale.
Increase turnover, reduce costs and increase customer loyalty
Outsourcing your help desk benefits the work of all your employees. It allows you to take advantage of increased productivity and cost reduction.
WE ARE FIBER
provides fast and accurate assistance that improves your company's internal communication and benefits your relationships with customers.
The Help Desk manages and solves all customer issue requests. We Are Fiber offers first and second level assistance, depending on the complexity of the problem.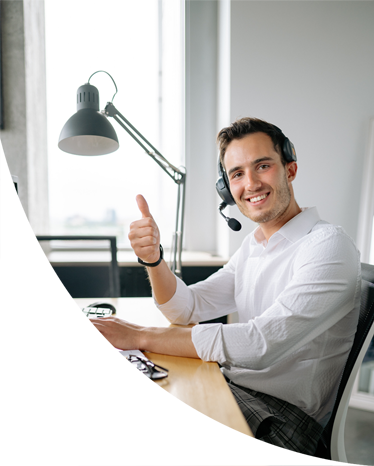 The advantages


of outsourced Help Desk
1.
Improve your efficiency
Take advantage of a flexible and scalable service that responds quickly to market changes.
2.
Optimise the use of staff
By outsourcing, you can prioritise using your resources for your core business.
3.
Performance always under control
Thanks to business intelligence dashboards, all KPIs are constantly monitored
Optimise your customer service to reach your customers on all channels.
The Help Desk manages and solves all customer issue requests. We Are Fiber offers first and second level assistance, depending on the complexity of the problem.
First level
The operator solves the problem or hands over the task to a team of specialists.
Second level
The specialised operator solves the problem or guides the user through the procedure.Our multilingual service provides invaluable customer care resources and is proactive with an outstanding ability to problem solve.
Take advantage of our Try&Buy. formula
Try our service for up to 3 months before choosing us as your partner.
Sectors
We Are Fiber supports companies in their growth path with passion, method and professionalism. We offer a vast range of services including customer care management, data entry and process management. Large or small our services are adaptable to meet the needs of any size enterprise.
Are you ready to consider outsourcing for your company?
Our consultants are at your disposal to analyse your needs and offer you the perfect solution.
Case
study
Our solution Grand Vision
Agency
GrandVision is an international optical retailer, part of the Luxottica Group. It is present in 44 countries and has more than 7,000 stores worldwide. Their E-commerce and stores offer high-quality eye-care worldwide.
Challenge
The company needed to improve the quality of its customer care service to meet all of the requests received across different channels.
Solution
The ad hoc solution created for GrandVision provides constant monitoring of the live chat and the mailbox for first and second level customer assistance.
This service includes shipping information, purchases, payments, right of withdrawal, promotions, billing, warranty, site and store. Whilst at the same time managing the warranty on damaged products, carrier communications, coupons, complaints and reviews.
2.740
Managed calls/month
4.186
Managed tickets/month
90%
Customer Satisfaction
Can we

help you

?

Please enter the requested information and we will prepare a quote and get in touch shortly to discuss it with you.