Outsourced order


management
In electronic eCommerce, punctuality and reliability of deliveries are fundamental. After all, the customer relies on online services to save money and receive the product quickly.
WE ARE FIBER
is the ideal partner to grow and manage eCommerce logistics productively and prudently. If you want to optimise the digital commerce of your business, why not consult our flexible services capable of adapting to every need
Logistics must start on a simple premise: the customer is at the centre of the project.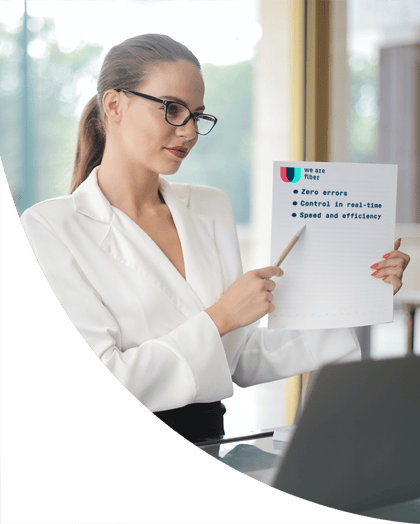 The advantages


of outsourced order management
1.
Zero errors
With intelligent automation, manual processes that involve inaccuracies will be eliminated. These solutions mean the possibility of error is also eliminated.
2.
Control in real-time
Consistently up to date visibility of orders and a real time-view of availability on all channels allows you to make decisions quickly and effectively.
3.
Speed and efficiency
Thanks to RPA, you can simplify and speed up all operations involving warehouse and inventory management. This also allows you to recover valuable resources.
To respond promptly to customer requests, the accessibility of warehouse information must be flexible and fast.
If the customer is dissatisfied with the service, they release negative feedback which, like the old word of mouth, spreads virally on the web, negatively affecting the "brand awareness" and reliability of the company. omnichannel support can provide customers with the ability to track a package at any time.
Take advantage of our Try&Buy formula.
Try our service for up to 3 months before choosing us as your partner.
Sectors
We Are Fiber We Are Fiber supports companies in their growth path with passion, method and professionalism.
Thanks to our industry expertise, We Are Fibre offers: customer care management, data entry and process management. Large or small our services are adaptable to meet the needs of any size enterprise.
Are you ready to consider outsourcing for your company?
Our consultants are at your disposal to analyse your needs and propose a tailor-made solution to meet all your requirements.
Case
study
Our solution for Bloom & Wild
The UK's largest and most popular flower e-commerce has requested a dedicated team from We Are Fiber with the aim of increasing the absorption of the number of assistance requests received during the Covid-19 emergency lockdown.
Our Business Continuity Plan has allowed for a quick reorganisation of services, ensuring the continuity of the activity of our resources and not blocking customer assistance even for a moment.
8.539
Incoming calls/month
1023
Outgoing calls/month
41.933
Handled requests/month
98%
Customer Satisfaction
Can we

help you

?

Please enter the requested information and we will prepare a quote and get in touch shortly to discuss it with you.