Healthcare is a sector where timeliness, availability and the secure management of sensitive data are crucial.

Health care facilities such as clinics struggle to offer the services required to manage and resolve the high volume of challenging requests they receive.

A missed call is equivalent to a missed reservation. Why keep losing patients and revenue?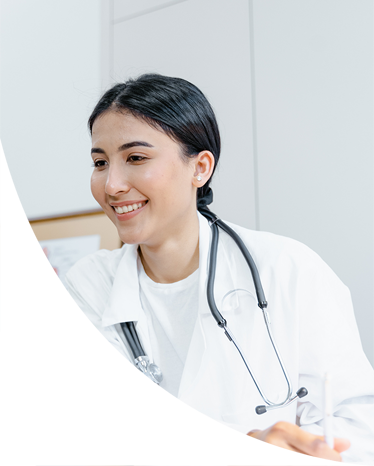 Analysis and design
Based on your needs and an as-is analysis, we design a personalised service to ensure the correct management and tracking of calls and other types of contacts linked to your company.
Strategy definition
We define a to-be operating model with a focus on customer service. The model identifies strategic priorities whilst taking into account activities.
Quality check
We monitor your business through a dashboard integrated within your systems and centralised with data relating to the outsourced service and incoming calls, for continuous analysis and fine-tuning according to quantitative and qualitative KPIs.
Services
Outsource your healthcare services
We Are Fiber supports companies in their growth path with passion, method and professionalism. We offer a vast range of services including customer care management, data entry and process management. Large or small our services are adaptable to meet the needs of any size enterprise.
Are you ready to consider outsourcing for your company?
Our consultants are at your disposal to analyse your needs and offer you the perfect solution.
1.
We take care of your Customer Care
Our services are organized to meet every type of need in the field of customer care aimed at acquiring new customers, assistance service, complaints management, help desk.
2.
We manage the Back Office
We take care of document archiving, data entry, quality check, database management, flow management, pec, complaint email.
3.
Process Management
We optimize and speed up your processes. Control Room, Quality Audit and Robotic Process Automation are some of the services we put at your disposal to keep you in step with the technological transformation.
The advantages of Healthcare in outsourcing

Outsourcing allows you to vastly improve your healthcare service.

We are Fiber offers solutions that can provide your company with many advantages, retaining customers by offering them a fast and accurate service.

We Are Fiber manages customer care and outsourced back-office services for the healthcare sector.

The Booking Management service allows clinics and hospitals to outsource the management of their bookings for medical visits and consultations. Our efficient booking management offers patients an improved experience with minimal waiting times and personalised assistance. We even offer support after the service has been provided by managing any issues reported by patients.

Take advantage of our Try & Buy formula

Try our service for up to 3 months before choosing us as your partner.
Case
study
Our solution for Medicenter Group


Agency
Medicenter offers a range of services ranging from diagnostics to specialist medicine, outpatient surgery and rehabilitation.
Challenge
The customer partnered with us to manage the high level of calls received in the group contact centre during peak times.
Solution
We Are Fiber manages the help desk and incoming bookings, ensuring consistently good results on KPIs.
98%
Customer Satisfaction
Can we

help you

?

Please enter the requested information and we will prepare a quote and get in touch shortly to discuss it with you.